Complete IT Solution For A Modern World
What if we told you there was a way to bring all of your IT solutions under one central umbrella? That at the end of each month you'd only have to worry about paying one fee, rather than a seemingly endless list of individual IT-related items?
Sound too good to be true?
It isn't, with Modern Office.
Modern Office is a revolutionary concept from Essential Tech that is designed to give you access to all of our managed services while keeping your side as simple and stress-free as possible.
Modern Office takes all of our managed services – including our security, communications and cloud offerings, alongside the stand-out managed IT service we're renowned for – and collates them into one package.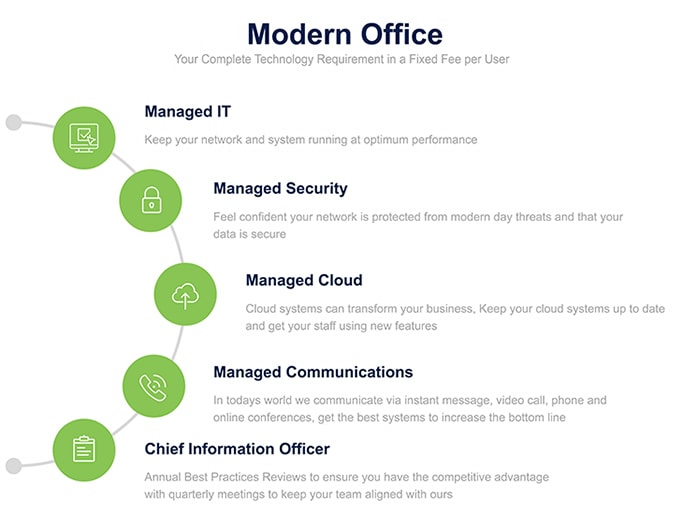 But what exactly does Modern Office mean for you?
Well, it means that that all of our services will be offered to you at one central price point, the cost of which is scaled to your business' particular size and needs.
It also means that as the needs of your business grow or your direction changes, we'll be able to make sure your IT solutions grow with you – all while ensuring the management of these solutions remains streamlined and easy-to-understand.
Finally, and most importantly, the Modern Office concept ensures that you're able to keep doing what you do best with the complete peace-of-mind that comes from knowing that you'll always have the expert support of the Essential Tech team only a phone call or email away.
Interested in seeing how the Modern Office package can help simplify your business' IT needs for yourself?
Contact our expert team today to get started.
Or keep reading for more information on just a few of the benefits of the Modern Office package.
The Benefits Of Modern Office
Making Sure Your Devices Help You Keep Moving
We've all been there: hours away from the deadline of a big project, or just a few clicks from printing the final version of a document you need before a career-changing presentation, when suddenly your computer dies. The disbelief begins to set in, swiftly followed by panic as you wrack your brain for what you could possibly do to fix the situation you now find yourself in.
With Essential Tech's Modern Office package, you'll never have to face this anxiety-inducing scenario again. Modern Office ensures that our team of expert IT support technicians – who are based out of our Brisbane office – are always only a phone call away, ready and waiting to help you resolve any issues you may be facing quickly and efficiently.
We also constantly monitor your IT landscape to ensure that your devices and systems are continuing to evolve as you do, to ensure that you'll always be supported. To put it simply: with the Modern Office package, if your computer or another device suddenly stops working, we'll be there to help you get back online before you know it.
Keeping Your Work Systems For Work Only
2020 was a year that saw many businesses across Australia adapt to the needs of a constantly changing work landscape, with more employees than ever working from home. The Modern Office package recognises the needs of businesses whose employees may work from home as well as in the office and offers solutions to support them.
By implementing the Modern Office package into your business operations, you'll be able to ensure that your work systems and processes are only accessible for work purposes – even if your employees are working from home. Whether your employees are working from their personal computers or mobile devices, we make sure that once the work day is done your data is secure.
Securing Your Company From All Angles
We've said it before and we'll say it again: security is key when it comes to running a business in the internet age. Modern Office offers solutions that make sure your business operations are secure from all angles, including protection for your email and identity.
The Modern Office package tackles all facets of your business operations to make sure that you're able to keep doing what you do best without the fear of having your identity stolen or your precious business information breached. We even offer ways to keep your data and communications encrypted, so that only your employees and those you trust are able to access them.
Want to make sure your business operations are secure?
Helping Your Staff Stay Up-To-Date On Security Best Practices
For many companies that have experienced a data breach or suffered from having their identities stolen, the cause can usually be tied back to one thing: user error. Modern Office mitigates this risk by regularly sending security tests to your employees to assess whether they would be likely to accidentally compromise your business' data security.
And if your employees fail these security checks? Modern Office offers ways to help educate them on the best practices for data security moving forward, so your team will never make the same mistake twice.
Keeping Your Team Connected – No Matter What
With remote work becoming more and more common, the modern company needs IT solutions that allow your team to stay connected and productive no matter where they're located. Modern Office addresses this need by offering total online-based business operations.
Think being able to use all Microsoft 365 programs, or equivalent, from any device you need to, having all your company's passwords stored in one secure place and maintaining contact with every member of your team – even if you're in different physical locations. And that's just the beginning of what Modern Office has to offer.
Centralising Your Business Systems and Operations
While staying connected with your team is essential when working remotely, even more important is having all of your business systems and operations centralised in one location for easy access. The Modern Office package helps you to do this through the use of just a few simple programs.
Dread the idea of having to onboard a new team member while working remotely? Struggling to stay on top of your employees' schedules when you all have separate calendars? Modern Office ensures that all of your essential information and systems are accessible from one central point, meaning that you'll be across everything going on in your business and able to check in with just a click of your mouse.
Think Modern Office could be just the solution you are looking for?
At Essential Tech, we believe that the Modern Office package is the perfect IT solution for the modern business. That's why we've designed it to fit the needs of every organisation or business, no matter your size or business goals.
Modern Office is all about simplifying your IT processes while ensuring you're still getting the premium service and experience Essential Tech strives to offer. Think less scratching your head over your monthly IT bill and more time spent on helping your business to thrive.
Ready to embrace Modern Office's benefits for yourself?
All you have to do is get in touch with us today and a member of the Essential Tech team would be more than happy to provide you with a quote personalised to your business' particular needs.
Go on, what are you waiting for.