Business IT services to enable and enhance your digital transformation
Technology is a critical part of your business, and when things go wrong, it can create big problems. That's why it's so important to find a reliable IT partner you can trust.
At Essential Tech, we pride ourselves on delivering quality IT services at affordable rates. We provide managed IT services for small and medium sized businesses (SMBs) in Brisbane, throughout Queensland, and Australia-wide. Our team of experts are ready to help you solve any problem that might come up, no matter how big or small.
A successful business begins with the right technology, and Essential Tech can give you what you need. We'll always go the extra mile to ensure your network is secure and up-to-date, and create customised solutions that meet your business objectives and budget. This way, you're free to focus on running your business while we take care of everything else.
With the right IT services and digital transformation strategy, our team of IT experts can help you adopt the processes you need to enhance operations and continue delivering value to your customers.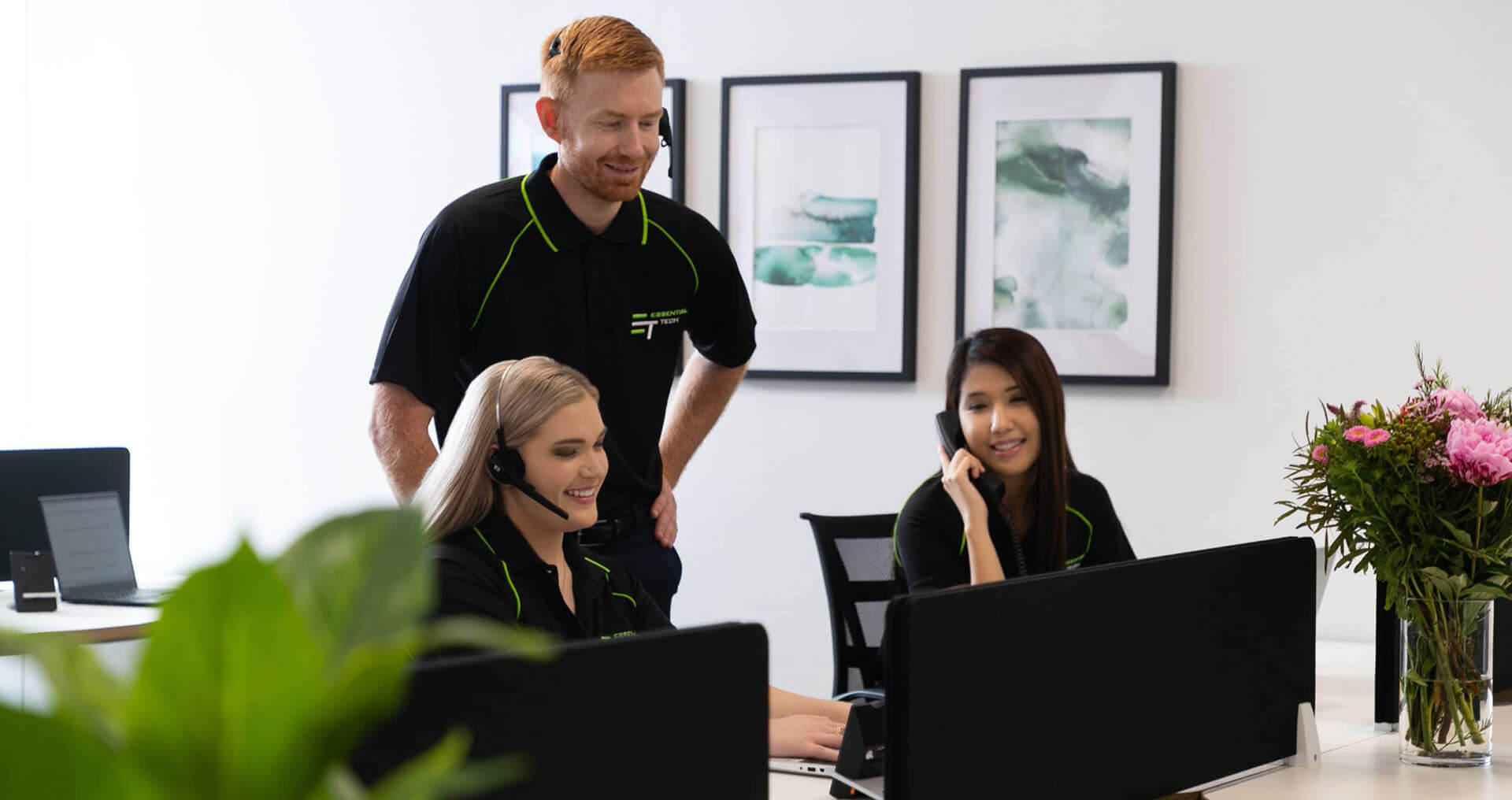 Essential Tech's Managed IT Services will:
Enhance business communications
Increase uptime
Secure business continuity
Reduce overheads
Streamline decision-making processes
Maximise productivity
Increase operational efficiency
The managed IT services and solutions your business has been looking for
Offering cost-effective IT support services designed specifically for your business
IT operations are the heart and soul of today's business, so it's important that you have the right people taking care of it. While many businesses may not be able to effectively manage their IT operations, you can stand out from the pack by partnering with Essential Tech – your one-stop Brisbane-based Managed Service Provider (MSP). With Essential Tech on your side, you can be guaranteed ongoing support from a team of highly qualified industry professionals who will dedicate their time to proactively handling and monitoring all your business technology.
We will take care of your organisation's complete technology environment to ensure your business continuity, and streamline your day-to-day operations. Our service offerings range from hardware assets, critical equipment, and network hardware and management, to application performance, data backup and disaster recovery, server uptime, and email security.
The friendly team at our service desk will handle all your queries, concerns, and technical support quickly and competently. Our expert technicians deliver remote monitoring and management, and onsite IT support - all based on your business and IT needs.
We also provide a comprehensive review of your current IT setup so your business can free from the disruptive IT problems and roadblocks that are preventing your business from reaching its full potential.
Make operational disruptions and expensive solutions a thing of the past and see how Essential Tech can save you money while maximising your uptime.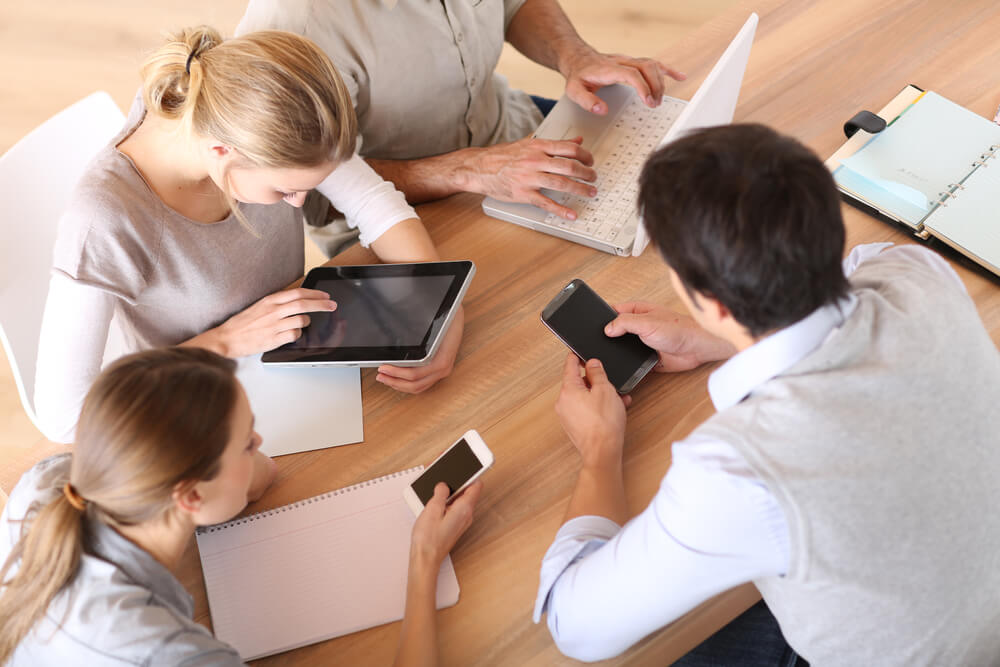 What can Essential Tech do for your business?
The team at Essential Tech has the knowledge, experience, and resources to give your business the IT boost you've been waiting for. With our managed business IT services, you can focus on growing your business and staying ahead of your competitors, instead of worrying about day-to-day IT issues.
Some of the services we offer include:
Managed IT Services – Helpdesk
Managed Internet Services
Managed Voice Services
Managed Backup
Managed Cloud
Managed Licencing and Procurement
Managed Security and Cyber
VCIO/VCTO
Hardware Procurement
Project and Information
Migration Services
Whatever you need, whenever you need it, Essential Tech has you covered.
Essential Tech is the managed IT service provider you've been looking for
Essential Tech is the managed IT service partner you've been looking for. We're committed to making sure your technology is as secure as possible, and providing comprehensive IT support services at affordable prices tailored to meet the needs of your business.
Our goal is to help SMBs maximise their technology investments by removing the costly and time-consuming challenges that come with managing IT infrastructure and operations. With our managed IT services, you can focus on growing your business instead of worrying about day-to-day IT issues. We'll help you reduce costs and update your technology infrastructure without disrupting your business operations.
We understand that technology can be a challenge, so we strive to provide solutions that are easy to implement and maintain. Our team of dedicated engineers guarantee 100% operational uptime all the time, and that's what sets them apart. We will take care of your business as if it were our own, and because we understand that your business is unique, we will provide infrastructure and solutions designed specifically for you.
So call the Essential Tech team to see how we can help unlock more of your business potential with our managed IT services.
Managed IT services - frequently asked questions (FAQs)
What is included in managed IT services in Brisbane?
Managed IT services generally include installing and handling all aspects of an organization's IT infrastructure and systems, from specific hardware and software to maintaining high standards of cyber security. It also includes on-premise and off-site support. With managed IT services, Brisbane businesses can rest easy knowing their networks are optimised.
What is the purpose of a managed IT services provider in Brisbane?
A managed IT services provider (MSP) oversees their clients' IT infrastructures. Their purpose is to make sure companies' technologies are working efficiently. Additionally, a managed IT services provider often works with organisations to develop and implement long-term IT strategies for more robust systems.
What are some common examples of managed IT services in Brisbane?
MSPs offer Brisbane's businesses versatile support at cost-effective prices. Their services include upgrading network hardware and software, monitoring for cyber threats, regulating compliance, and more. MSPs can also assist with data backups and disaster recovery.